ブログ個人トップ | 経営者会報 (社長ブログ)
金型工場2代目会長の「経営革新」成功への日々を綴ります。
2007年10月20日(土)更新
ODAでアフリカから見学に来られました。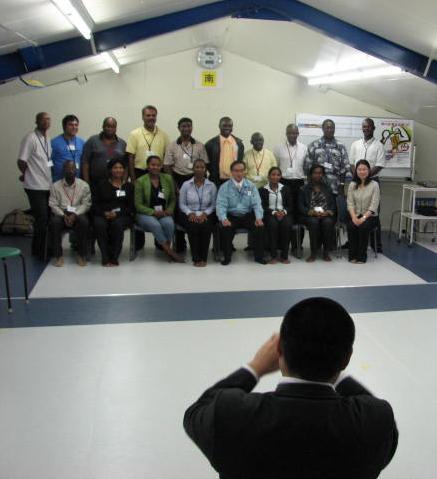 19日、政府経済産業省のODA事業(財)社会経済生産性本部の
アフリカ生産性普及促進研修先として、
日産自動車追浜工場、東芝科学館、正和製作所、クリエイションコア東大阪
トヨタ堤工場、サッポロビール千葉工場、山武湘南工場とともに
弊社の金型事業部大阪工場が選ばれ
ボツワナ、ケニア、モーリシャス、南アフリカの各国政府組織から選ばれた
スペシャリストの皆さんがご工場見学に来社されました。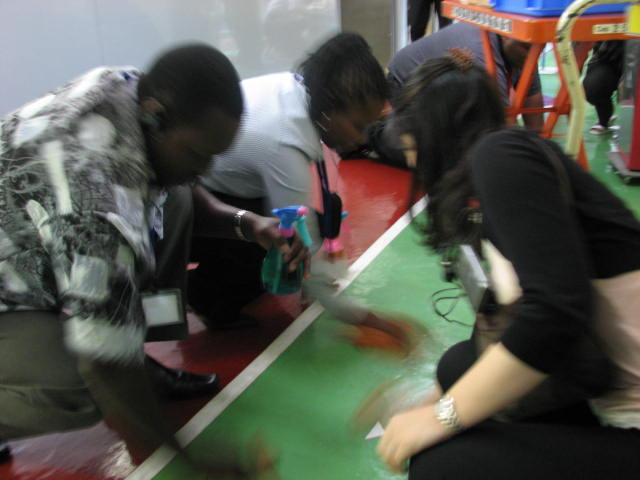 弊社の3S活動と経営革新へのプレゼンのあと、研修生の皆さんに清掃体験をして
頂きました。
床にはいつくばっての清掃体験はかなり刺激的だったようです。
品質管理の基本は、まずは3Sからということで体験していただきました。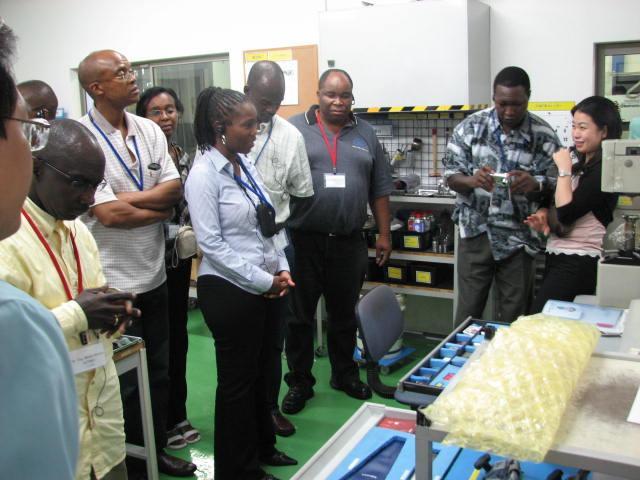 整理・整頓・清掃の3S活動の文化が、研修生の皆さんを通じて研修生皆さんの
母国で花開くことを願っています。
ご訪問の皆様方よりアンケートを英文でいただきました。
貴重なご感想ご意見ありがとうございました。
続きに記載させていただきました。
ブログに掲載の快諾を頂きました方のアンケートを原文のまま掲載させて頂きます。
Q1 思うままにご感想をお書きください。
My impressions are as follows:
? company is clean
Well laid out
Highly organized
LUCASさん
Very impressed by idea of cleaning the MIND.
The ? is extremely clean welcoming.
The ? are very clean, neat and happy looking excellent example of 3S practice.
KAMAUさん
Improve with (1) warn welcome (2) clean workspace ? to keep it away clean (3) A place of everything in it place (PEEP) (3) Quality costs a quality ? (5) ?.
APPALSWAMYさん
Very impressed by the disciplined way in which 3S is practiced.
3S is evident throughout the premises and the pride of the company is evident ovo well.
Offices is all model workplaces; reflect single second removal of info!!
JEFTHAさん
Very impressed at: The orderliness, the neatness, the discipline and the way that waste is managed.
MAPHANGELAさん
The welcome and reception was very good.
The work layout is very clean and easy to follow and understand.
Visual control is of high standards and therefore makes everything simple evenf or a first visitor.
There is high standard of order.
KIMANIさん
The work being done by your company is fabulous in terms of 3S acquires.
And I think that you've reached this stage through outstanding leadership of the president, team work among employees and a strong sense of belonging and cooperation. We've learnt a lot especially how small things which we rarely pay attention as I can make a huge difference.
Keep up all the good work! You are indeed blessed.
RAMSOHOKさん
Highly productive company sensitive to the environment.
World class manufactures.
Efficient and effective productions possesses and administrative processes.
Role ? to emerging savings and ever bigger corporate to ? from.
His outstanding 3S implementer with total employees and management commitment with zero ?.
LEGOABEさん
A healthy place, keeps healthy mind.
Tidy and no germs.
Too much work put in.
Team spirit is necessary.
RADITLADIさん
Very impressed by your commitment to 3S.
The factory/workshop is very tidy, the office too.
Superb information management & filing system.
Very practical implementation of 5S.
NZOMOさん
I think I saw the best in class 5S application though you call it of 3S of the mind.
I am really impressed by your passion to always learn by doing.
Your company's exemplifies what you say you create future because you cannot change the past.
SUKURDEEPさん
Cleanliness of the plant.
Covering all areas in the implementation of 3S even the kitchen.
Opening up your plant for people to come see your 3S activities. This deviously helps you to get feedback from various people and further improve.
MAPITSEさん
Commitment and passion of the management (president)
3S requires a complete change of minder.
An implementation of new innovation there is away a chase of the old and the new.
Innovation may take savetime to realize, but patience will yield results.
You cannot change the past, but you can create the future as you wish.
RAMASHABAさん
The 3S activities is excellently implemented.
There's a lot of innovation in few of ?.
Thus waste in the Q.C.D.S.M.
Cleaning ? made the 3S achingly real.
OKOTHさん
Clean, orderly, disciplined workplace.
Very very high commitment of top management for both improvement and sustenance.
Innovation is the implementation of 3S
Pleasant atmosphere to working.
Very the impression towards people external to the company.
TOOLSYさん
I am very impressed!! Especially by the leadership.
The leader is leading by example. He has achieved so much but yet so humble. He is such a role model! Keep up the good work!!
TSHIFULAROさん
Q2あなたが職場に戻られた後、こうしてみたいという想像をお書きください。
I will try the organize my office items and equipment.
LUCASさん
I would ?: Clean the surroundings and office. Then sort everything in wall. Were after ? and manage the ? and its ? and maintenance.
MAPHANGELAさん
Files
Remove useless papers
Organize drawer
Keep my desk tidy
Encourage my office mates to practice 3S activities.
RADITLADIさん
Instill the spirit of commitment and passion especially in the management.
Rearrange my office especially the failing system which is in the mess ?.
? the idea learning the real coffee table by myself and ? in ? basis currently there are ? hired to do this exercise.
RAMASHABAさん
I would start by sorting our ? and document net I rarely use separate then with what I use everyday every 3 hours on my desk.
Store away old label then for easy retrieval.
Cleaning my office thoroughly.
KAMAUさん
Replicate the model at Hiraoka though the following: Visual control to simply make across to things or items better.
Cleaning has a daily activity and personal involvement rather than relying on others.
Helping others and leading them about the 5S.
KIMANIさん
Sort out & clean my exercise.
Table the impression to my home/house.
Clearly mark out our ?.
NZOMOさん
Apply the 3S as implemented eg put we shininess in my dreamer in the manner I show. I will buy use.
OKOTHさん
Try to make keeping the workplace clean my inner nature as I believe in my cork for audit everybody in Japan. We could ace all the play we visits clean and everybody observing gain gain and gain.
APPALSWAMYさん
Through you office is operating is an excellent manner, maybe one of the things which would be done to enhance 3S activity is to have some type of connection between the office area and the shop floor. Since both of them are separated ? each other and it rains very often in Japan, maybe having some type of connection between the two can help to maintain more dewiness. For example you can haze a covered shatter.
RAMSHOHOKさん
We believe that 5S is fundamental is mainly improvements. It creates the necessary plaited change ever influences change.
I'm mildest were fore we would re-enforce we efforts to encourage companies adept 5S.
SUKURDEEPさん
Cleanliness of office.
Identification of switches, visual management of filing cabinets.
3S is training room, storage of accessories.
3S on office desks.
TOOLSYさん
Implement 3S effectively in my own environment.
Start with putting together a plan and a policy regarding the classification of items as per 4 hours ? need half dead, dead, etc.
JEFTHAさん
Sort my table desk and remove unnecessary documents, file folders and open new files.
Never be files and arrange in sequential ?.
Number training necessary by ever, alphabetical and target mark of.
LEGOABEさん
Clean up my office and implement 3S.
I want to further expand this 3S activity beyond the office to my house.
MAPITSEさん
I would improve the filing system for my hand copies. I will ensure that every item in my office has a dedicated place.
TSHIFULAROさん
Q3私たちの至らぬ点をご指摘ください。
I commonly think of anything at the amount.
I am very impressed.
MAPHANGELAさん
I cannot think of anything. I am amazed how people can be so organized. I have leant a lot from your company.
RADITLADIさん
Perhaps there is need for you to ? putting some kind of a way in the meeting room is consideration of visitors who say not tell.
Lots table with their dead on the floor ceil to visitors.
RAMASHABAさん
Improve on direction to reach the factory from the road by giving sign posts with name of factory, arrow, giving direction and distance from the side road.
KAMAUさん
Maintain the standards.
KIMANIさん
Hard to tell, I'm not maintain the ? every when you expand and diversify.
Success management.
NZOMOさん
Removing my shoes. Link the two offices ?. And offices so ? when Hs raining few employees are not railed on.
OKOTHさん
Workers going is the toilet in rainy favors may set ill in rain.
Providing a help to workers to remove pulling back rain shoes avoid wait.
APPALSWAMYさん
I would like to apply some of the simple technique being applied in your ? back home e.g.) maintenance of the drawers, folders, office stationary etc.
RAMSHOHOKさん
Share the passion ?!
SUKURDEEPさん
Develop tools for changing of metal chips & filing on lathe machines.
TOOLSYさん
In factory environment 3S activities cleaning should be scheduled more regularly such as repainting, etc walls don't reflect 3S rule rest of co.
JEFTHAさん
Pleasure you employee average age to ? your places retention and equip suture prospects.
LEGOABEさん
It is difficult for me to tell because all the thing I saw in the factory are perfect. All I can say keep up the good work and spread the word to people that can learn from you.
MAPITSEさん
Company performance measurements, vision and values should be displayed at all work stations so that all workers are up to date and feels that they too are managers of this business.
TSHIFULAROさん
以上 
貴重なご感想ご意見ありがとうございました。
皆さん方の国で3S、5S活動を通じて生活が豊かになりますよう
心からお祈りしています。
ご訪問いただきありがとうございました。
                         枚岡合金工具株式会社 @古芝保治 
【ツキを呼ぶ「経営革新」成功のポイント】
【枚岡合金工具】
文書管理【デジタルドルフィンズ】